Printed Books and Manuscripts from the Library of Doris Benz
Item
Title
Printed Books and Manuscripts from the Library of Doris Benz
Caption
Doris Benz was a wealthy book collector from the Boston area who vacationed near Dartmouth. Much to the surprise of everyone at Dartmouth, her will directed her estate to auction her book collection with all proceeds going to Dartmouth's Special Collections to create an endowment for the acquisition of rare books and manuscripts. It remains the largest endowment in support of Special Collections.
Bibliographic Citation
Christie's Auction House, Printed Books and Manuscripts from the Library of Doris Benz, 1984 November 16, DC History, Z999.C4767 1984, Rauner Special Collections Library.
Item sets
Site pages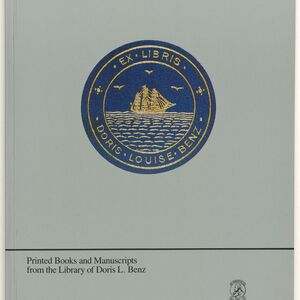 exh250-place_benzAuction1984-002.jpeg