Excerpt from Minutes of April 23, 1954, Meeting of the Board of Trustees
Item
Title
Excerpt from Minutes of April 23, 1954, Meeting of the Board of Trustees
Caption
This excerpt of the Board of Trustee meeting minutes details a vote by the Board to support a resolution put forward by the Undergraduate Council that fraternities must do away with their discriminatory clauses by 1960. The Council was led by David McLaughlin who would go on to become the 14th President of Dartmouth College.
Rights
Creative Commons Attribution-NonCommercial License
Rights Holder
Trustees of Dartmouth College
Bibliographic Citation
Excerpt from Minutes of April 23, 1954, Meeting of the Board of Trustees, 1954, 2558:Discrimination, Dean of the College, records, DA-8, Rauner Special Collections Library.
Item sets
Site pages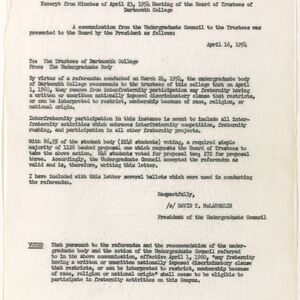 exh250-place_trusteesMinutes1954-001.jpeg