"Unconditional Certificate" for the Admission to the Freshman Class
Item
Title
"Unconditional Certificate" for the Admission to the Freshman Class
Caption
There was a time when all you had to do to get into Dartmouth was go to the right prep school. The principal could then sign a simple form vouching for you, and you were in!
Rights
No Copyright - United States
Bibliographic Citation
Dartmouth College, "Unconditional Certificate" for the Admission to the Freshman Class, Vertical Files, Admissions 1, Rauner Special Collections Library.
Item sets
Site pages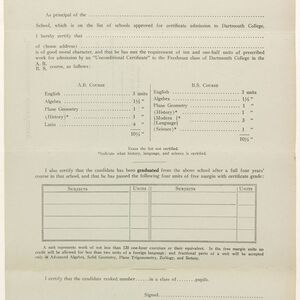 exh250-place_admissionCertificate-001.jpeg