Dartmouth College Catalogue, 1893-94
Item
Title
Dartmouth College Catalogue, 1893-94
Caption
By 1893, the Dartmouth curriculum had shifted to emulate the German university system. Specialized fields of study, electives, and even modern literature arrived in Hanover.
Rights
Creative Commons Attribution-NonCommercial License
Rights Holder
Trustees of Dartmouth College
Bibliographic Citation
Dartmouth College Catalogue, 1893-94, 1893, DC History, LD1427.D25, Rauner Special Collections Library.
Site pages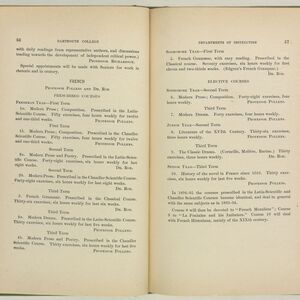 exh250-place_catalogue1893-001.jpeg