George Ticknor, Journal, Göttingen, September 10, 1816
Item
Title
George Ticknor, Journal, Göttingen, September 10, 1816
Caption
1816 Sept. 10. Göttingen. End of second semester. Results. Today closes my second semester in Göttingen, and I am grateful to Heaven that another period of my imprisonment has passed, for five miserable months as the last have been have never before darkened my life. Perhaps, however, all this may be well and fortunate for its effect has been to keep me constantly and severely at my books and that is the object for which I have remained here.
Bibliographic Citation
George Ticknor, Journal, Göttingen, September 10, 1816, George Ticknor Papers, MS-983, Box 2, Folder 1, Rauner Special Collections Library.
Filename
exhTicknor-gottingen_sept_1816-001.jpeg
Item sets
Site pages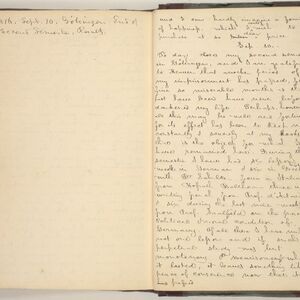 exhTicknor-gottingen_sept_1816-001.jpeg