George Ticknor, Journal, Madrid,1818
Item
Title
George Ticknor, Journal, Madrid,1818
Caption
In the entry for "1818 Summer in Madrid," Ticknor dedicates a long passage to bullfighting. Unlike contemporaries such as Washington Irving, Ticknor does not offer a purely romantic portrait of the bullfights. Rather, he describes feeling "unmanned" by them and overcome at the "horrid sights I witnessed." In much of his journal writing, he aims at erudition and educating the imagined reader about the history, geography, or cultural practices of the place he is visiting. In this passage, we encounter a different -- and more human -- side of the author.
Bibliographic Citation
George Ticknor, Journal, 1818, George Ticknor Papers, MS-983 Box 2 Folder 7, Rauner Special Collections Library.
Filename
exhTicknor-madrid_1818-007.jpeg
Item sets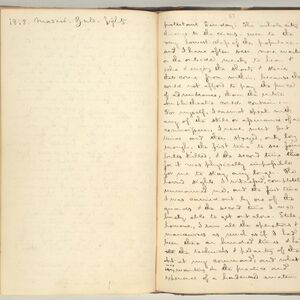 exhTicknor-madrid_1818-007.jpeg