Miguel de Cervantes Saavedra, Vida y hechos del ingenioso cavallero Don Qvixote de la Mancha. En Madrid: Por Andres Garcia de la Iglesia, 1674
Item
Title
Miguel de Cervantes Saavedra, Vida y hechos del ingenioso cavallero Don Qvixote de la Mancha. En Madrid: Por Andres Garcia de la Iglesia, 1674
Caption
Engraving depicting Don Quixote's descent into the Cave of Montesinos.
Creator
Miguel de Cervantes Saavedra
Publisher
Andres Garcia de la Iglesia
Bibliographic Citation
Cervantes Saavedra, Miguel de. Vida, y hechos del ingenioso cavallero don Qvixote de la Mancha ... Nveva ediccion, corregida, e ilustrada con treinta y quatro laminas muy donosas, y apropiadas à la materia .. En Madrid: Por Antonio Gonçalez de Reyes, 1706.
PQ6323 .A1 1674, Rauner Special Collections Library.
Filename
exhTicknor-cervantes_spread_1674-001.jpeg
Item sets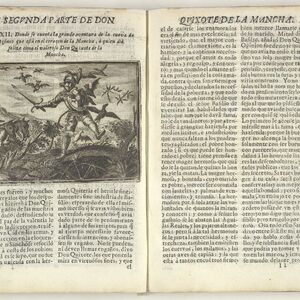 exhTicknor-cervantes_spread_1674-001.jpeg